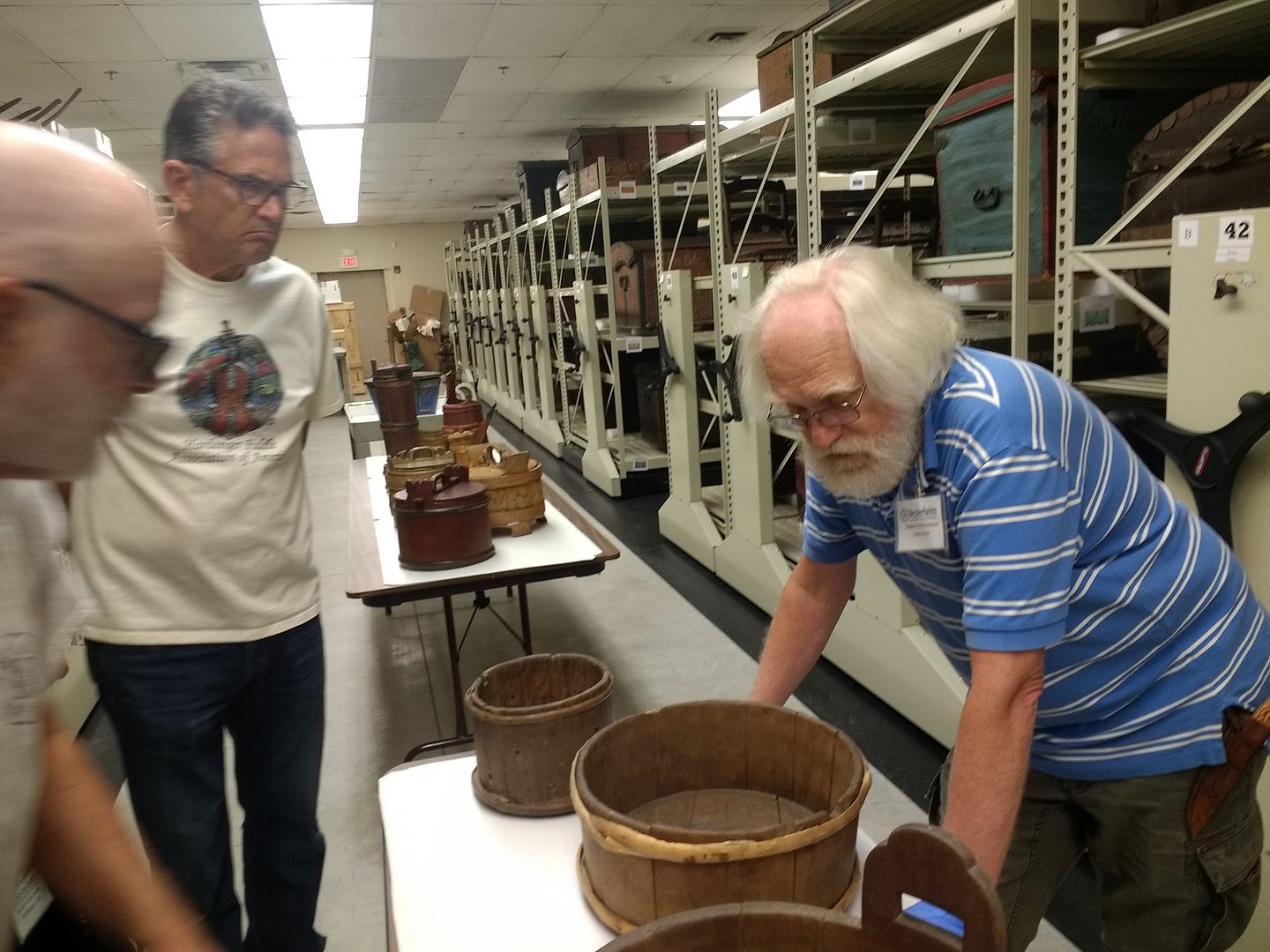 Owen Christianson describes original melkerings to class members.
Home is the sailor, as the poem goes, and the hunter home from the hill. I got back to Blithering Heights after 8:00 p.m. last night, having driven over three hours, and just didn't feel up to blogging. So here, now, is my report on my course at the Vesterheim Folk School in Decorah, Iowa.
Decorah is a nice little town, located in a picturesque, hilly area of northeastern Iowa. The Vesterheim Norwegian immigration museum is one of the town's economic and cultural mainstays, and the town was setting up for the annual Nordic Fest, which began today (I never planned to attend, being pretty sure I'd be played out after the class. I was more right than I knew.)
I'm very glad I took the four-day class. It was even more demanding than I expected – planing wood, especially, uses a lot of upper body strength (at least the way I do it. They tell me practiced woodworkers have economical methods that are far less taxing). Our class was called "Stave Vessels From the Past to the Present." The teacher was Owen Christianson, who is a cryogenic engineer by day, but does historical wordworking in his spare time. He's been studying the Viking Age recently, which made his instruction invaluable to me.
Our project was to produce a relatively simple stave vessel – what's known as a melkering (milk ring). They were used to separate cream in old times, back to Viking times.
Owen provided us with short staves (12 each), pre-cut to save time. So the angles of the edges were no problem. He used bass wood (to make it easy), though the originals were usually pine. Our tasks were:
1. Hollowing out the insides of the staves, either with a rounded bottom scuff plane or a gouge (the scuff plane is easier, but we had to share the tools).
2. Cutting a groove at the bottom of each stave for fitting the bottom into.
3. Constructing a bottom by pegging together three boards.
4. Fitting the whole thing together (we used hose clamps).
5. Rounding the outsides of the staves with flat planes.
6. Fitting the whole things together and binding them, again with hose clamps.
7. Creating bands for final binding (we used cane, though the originals are withies of willow or rowan, etc.), and locking them by means special joints.

Early stage.
We interrupted class on the first day to visit the museum's non-exhibit collection, to see some originals (photo at top). They also had other things of interest, such as a pair of skis used by Roald Amundsen at the South Pole.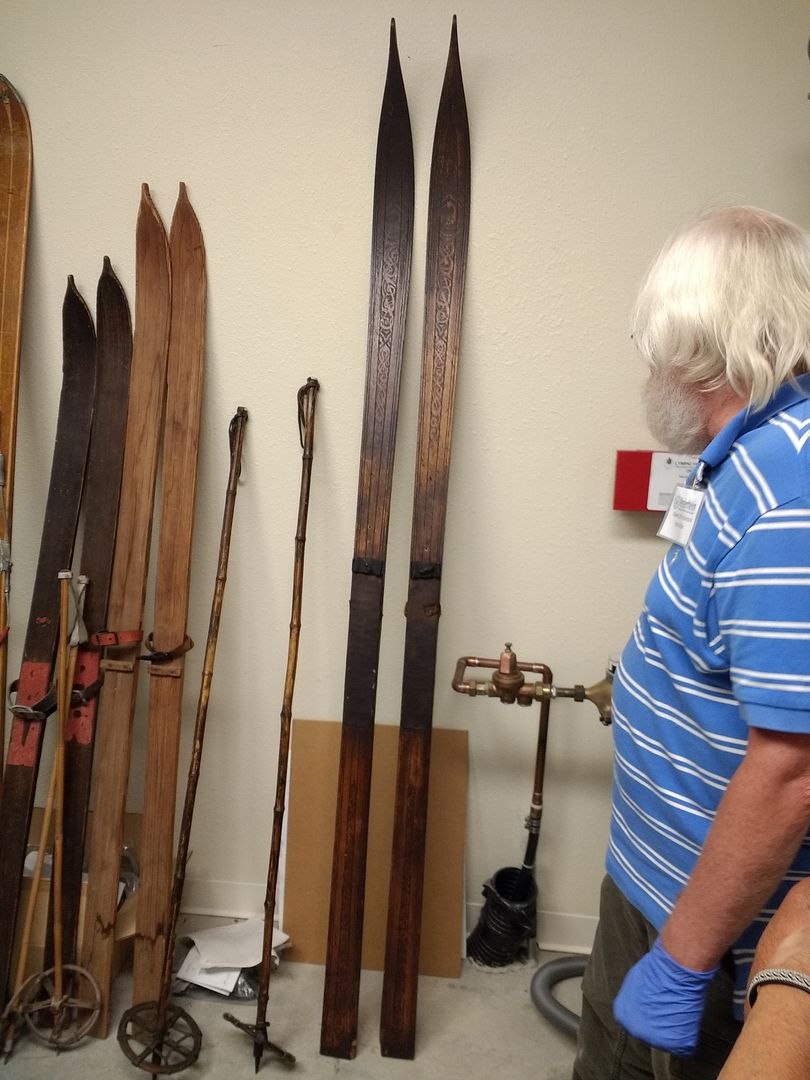 My own melkering was by far the ugliest in the class. The other students all had far more experience with woodworking than I did. Not to mention better eye-hand coordination and fine motor skills. Some of their melkerings were amazing – perfectly round, with seams so tight they were almost invisible.

First band.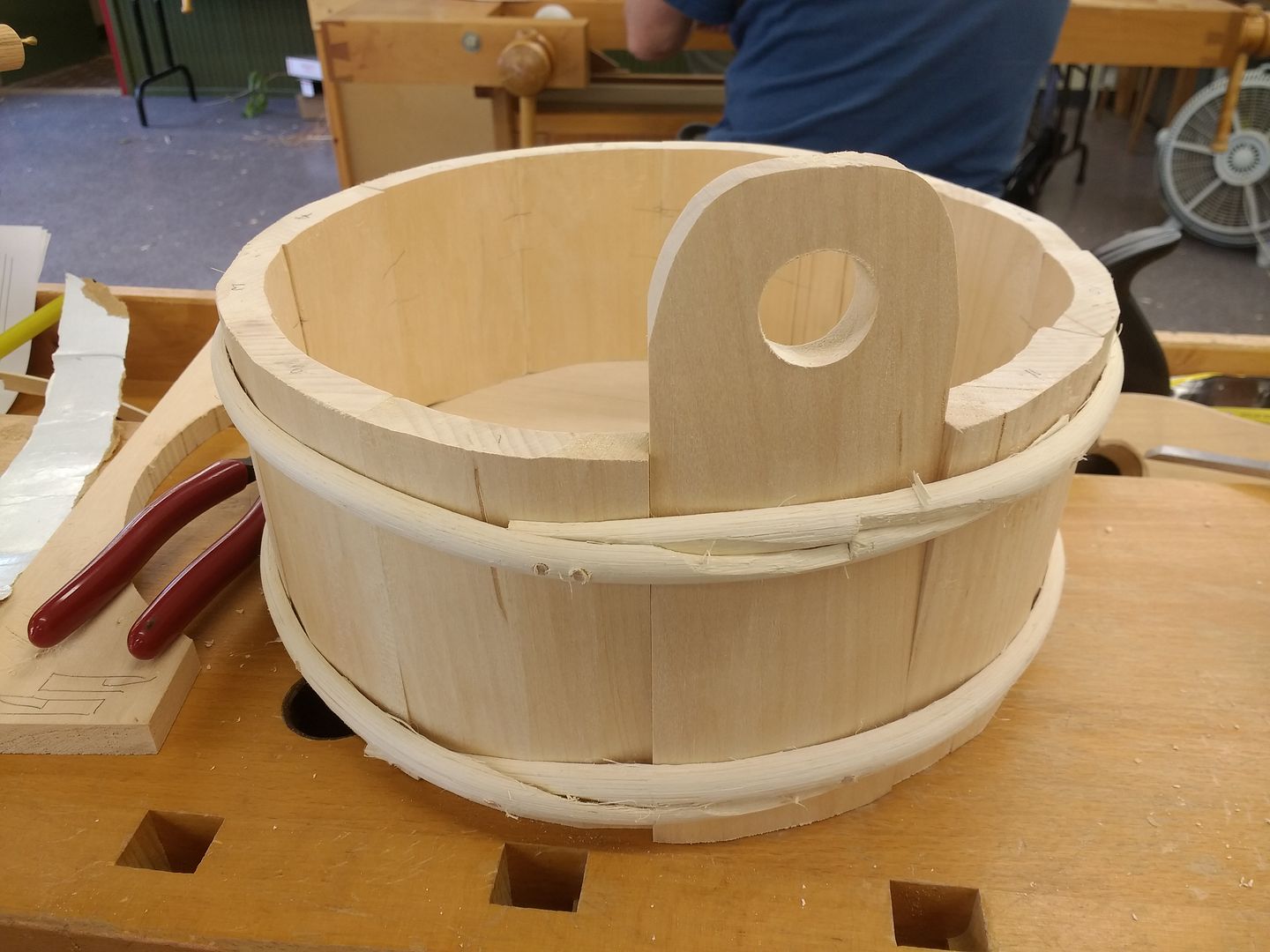 The final product.
My reward was not a beautiful work of craftsmanship, but the mere experience. I actually did get the "hands-on" benefits I'd hoped for – a better appreciation of how things were done in the past. Having Owen as an instructor was serendipity. He knows so much about woodworking in the Viking Age – not just containers but furniture and houses (he's built a Viking house, which is now on the campus of the University of Wisconsin-Green Bay), that just spending time with him was illuminating. I came away with a better feel for the period and lots of details I can work into my books.
I don't think I've been so exhausted by an activity since I took a canoe trip in the north woods. But I'm glad I did it. I may even do something similar again. After I've had some time to rest.