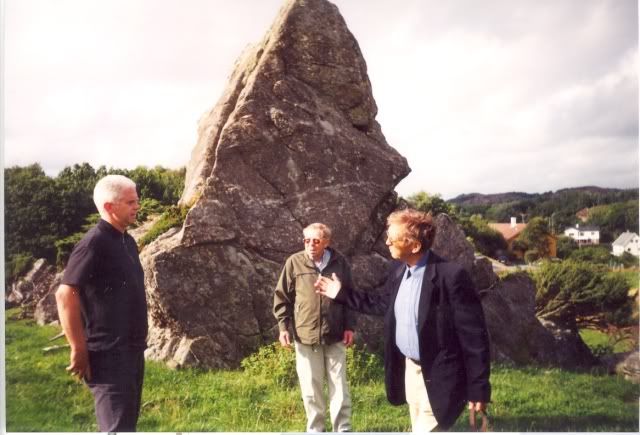 [I've started a project of scanning a series of letters which I have in my care, so that I can send them to some relatives in Norway. These letters were written by my great-great-grandfather, Ole Olsen Kvalevaag, to my great-grandfather, John Walker (whose original name was Jan Olsen Kvalevaag). I translated them some years back. It was almost my first job of Norwegian translation. I found them fascinating, for more than family reasons, and I hope you'll enjoy reading edited excerpts here from time to time.
Kvalevaag farm is located on a rocky island called Karmøy, in southwestern Norway. The picture above was taken by me on that farm, and shows three of my Norwegian cousins in front of a large stone (I think they had a name for it—the Church, I think, but I might be confused) in the valley called Tobteskarsdalen, which is mentioned in the letter. "Dalen" means valley, but this one is actually a valley in a rather high part of the farm.
The first letter is only a fragment. Its beginning pages have been lost. My guess is that it was written around 1889, a year after Jan had emigrated to America. See if you can identify the subtext. Bracketed notes in italics are mine. lw.]
…but so we believed it was from you, and we didn't get your letter before Christmas Eve; and then 3 came at once, one to me and one to Marta and one to Lava [sisters]. And then I had written a letter to Iver and Helvik [sister], to ask them whether you had come to them or not, for we were afraid that you had gotten sick in Dakota before you set out. You can't imagine how worried we were about you before we got the letter. Mother, mother, how she wept and wailed, "Now he's lost too." Oh yes, we certainly have our troubles, you may believe it. When Marta got to the post office and got all 3 letters, she didn't send mine, but came home with it, because she knew it was from you.
Yes, you say that we will come to America too, ja, ja, but in God's name it would be hell in America for us who are old. What in the world would we do there? No, we won't do that, for our time remaining does not suffice to lay upon ourselves and others the burden of getting us to America. No, the time we have left in this world we will spend in our dear Norway. We have wanted for nothing here, for we are content here and at peace in soul and body, so that we couldn't possibly have it much better. So I will ask you, for Jesus' sake, never to mention it; then your mother gets to crying again so that it's terrible to hear. "Is that the promise that Jan made before he left?" she says. You must keep your promise and come home again to us, for all your saws and tools are still hanging and lying at home just as when you left; for we have touched none of them before you come yourself.
Also I must tell you that old Brownie [a horse] has died. I had to get Johannes A. to put her down; and now she is buried in Tobteskarsdalen. I dug her grave myself. The day before we killed her, she was so pitiably sick that it was awful to see; she dried up to just skin and bones, so that I had to put her down so she wouldn't have an accident. And now I have two young ones left; Little Brownie is pretty and fat, but not big enough, but nice and easy to work with. Little Blue is rather skittish yet, for she had to lose her mother so early, but I hope she'll be good enough in time. And now I will tell you that many of the sheep went blind, but I cured them by putting tobacco on their eyes, so they were soon well again.
And also I must tell you that I have joined the Poor Commission again [as a Poor Commissioner, I assume. Possibly as a welfare case, though that seems unlikely]. I began at New Year's, and now I must remain on that for 4 years if I live so long. I didn't want to, that's for sure.
And I can tell you that many Americans have come home this fall. Sven and Matias Sorensen Matland have come home, Aarsen is dead in America this fall, Iver B. Ylveland has come, [and] Baar Ylveland—one in Hop, one in Juviken. Almost everyone from our area has come. Osmund Aadlan has come home. His wife is still in America. He came to get the wood on his farm home before his wife arrived. A letter came from Haalan and Ingebor and Ch. Anderson that they will come in the fall, and perhaps you and your brother will come too. Yes, we have heard that, but whether we will see it only God knows.
Also I can tell you that little Sven Buviken is getting married now; he will have the daughter of Torkel Stigen in Visness. Berta Bendiksen and Aadne Skeije are engaged now—she'll be ready, they say.
I will mention that we have rented out our sea house for the winter to K. Udvik for cod fishing—three men will be useful in that, if God grants us some. We have heard nothing of fish yet, but the weather hinders. Now I must end my writing for now. It's one o'clock now, and everyone is sleeping here. Hearty greetings from Father and Mother and your sisters and Tore. Greet everyone and tell them everything is fine with us for now; then who knows?
Ole Olsen Kvalevaag, Jr.
[Marginal notes:]
You must greet Iver and Helvig and Hendrig from us [and tell them] that we are all still alive, both young and old.
Greet Mathias [Jan's brother] from us, and thank him for the letter. I have received it, and he will get a letter back.
Yes, now I must go fishing, if God wills I should live so long, but that's unknown.
I will have little Knud with me as my partner, for I have none of my own to help me. Oh what a burden it is to think that I will have no one to help me.