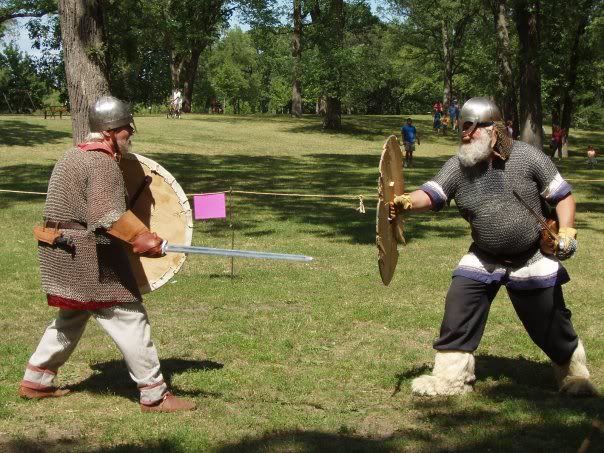 Two "Vikings" (me and my friend Ragnar) face off for a duel. Photo credit: Emily Chesley.
[I recently wrote a series of articles on the Viking judicial duel–the holmgang–for the newsletter of my Sons of Norway lodge. I offer them now for you here, in three installments. lw]
"By law shall the land be established, and by lawlessness laid waste," says the title character in the Icelandic Njal's Saga. Historian Magnus Magnusson writes, "I can never resist reminding my sceptical friends that it was these allegedly pitiless savages [the Vikings] who introduced the word law into the English language."
Anyone reading the sagas will soon realize the extreme importance of the idea of law to the Norse. And it's in the context of this importance that the judicial duel, the holmgang, must be understood.
The Vikings had laws and courts, as we do today. What they did not have was a police force. Delegating the use of force to someone else would have seemed shameful to any free Norseman. Continue reading The holmgang duel, part 1 →