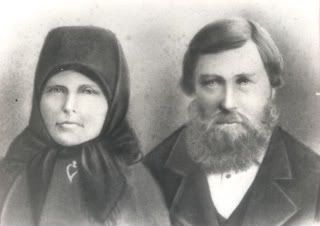 Katrina and Ole Olsen Kvalevaag
It's been a while since I shared one of my translations of the letters from my great-great grandfather to my great-grandfather. (The first three are posted here, here, and here, and here.) This one is the most dramatic of them all. I'll give it to you in two parts, but this section is the meat of it. Five years have passed since the last preserved letter, and John has moved from Illinois to Iowa.
[Envelope postmarked 7 IV 97, addressed to Mr. John Walker, Radcliffe, Harding co., Jova, North Amerika]
Kvalevaag, the 7 April 1897
Mr. Jan H. Olson,
Dear children of my heart,
I received your very welcome letter this afternoon, and re-read it with tears, and I want to answer it right away if I get the strength from the Lord to manage a letter to you at this time. I saw and heard from your letter to me that all was well with you when you wrote to me, which was precious to me to hear from you.
Ja, dear son and daughter and children, I have another piece of news to tell you today, and that is that the Lord has called your mother from me to Himself; and now, God help me, I am left here forsaken and alone as a wild bird, and have no one to cling to. Ja, God must now be my comforter and helper both now and preferably forever. Continue reading Olsen letter #4a →