Sorry for the late posting. My wireless connection chose this evening to forget its way home, and all my blandishments and caresses were of no avail. Now suddenly, having come back upstairs from my shield project (of which more below) I find the necessary light back on again, and I'm able to resume communication with you, the Esteemed Reader.
I wanted to call Earthlink Customer Support about the problem, but I had to leave the phone line open, as a guy had made an appointment to come over and look at the room for rent tonight. Or rather, he was going to call to get directions tonight, and then come over. But so far, no action on that front. I have a suspicion he's going to stand me up.
Which is only justice, in the greater scheme of things. I remember a couple times I did the very same thing to landlords, in my youth. When I'd decided not to check a place out, I never had the nerve to phone and tell the manager personally. Avoidant stuff.
But I was itching to finish painting my shields tonight, so I finally went down to the basement and worked on that, with the door open so I could hear the phone (haven't got one down there).
I'd already done the blue base coat. Tonight I put on the decorations, and now they look like this: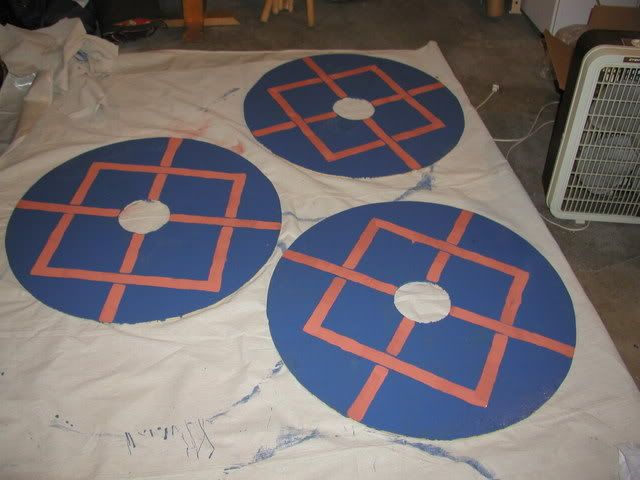 I'm not entirely happy. I'd like bolder colors—ideally I'd have preferred the bright red and yellow I usually paint my Viking stuff with. But I'm trying to conform to the general standards of the big-time re-enactors, and they prefer muted colors, because bright was hard (and expensive) to do a thousand years ago. So I took somebody's advice and went to a paint store and looked for "mistints," which sell cheap. These were the most interesting colors I could find, but the reddish thing is almost pink, and it underwhelms me.
I'll live with it, though. Better this than have an English re-enactor (should I ever chance to encounter one) get in my face.
The design, by the way, is based on the heraldic device of the island of Karmøy, where my great-grandfather was born.
We're supposed to get a big snowstorm tonight, which will continue on through Sunday. If you don't hear from me again, it's because I starved or froze.
Or because my wireless has gone out again.