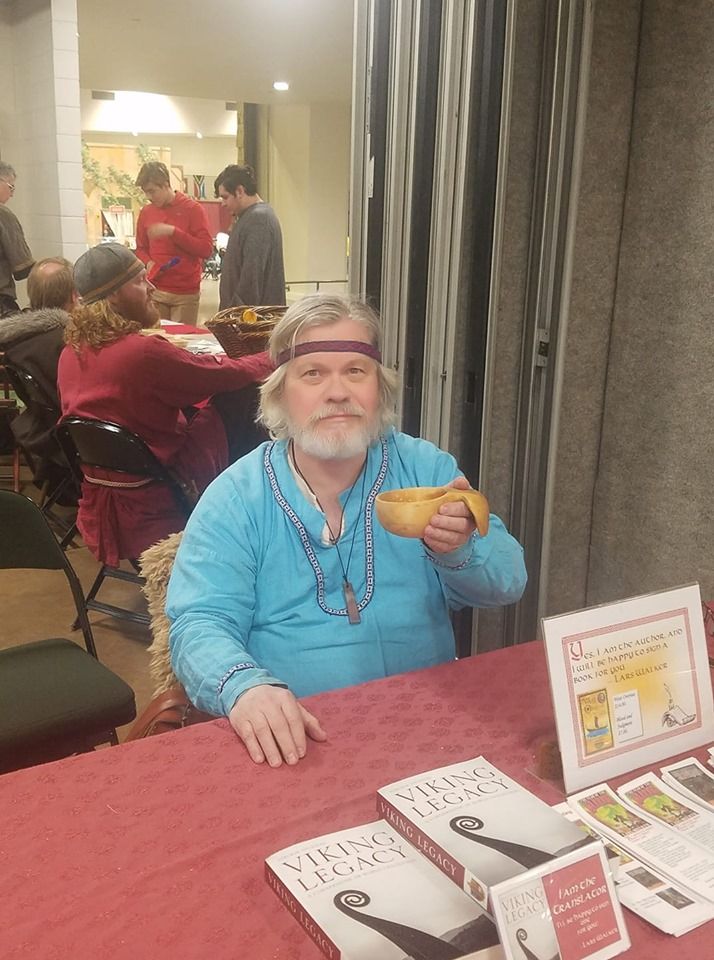 Above you see me this last week, at the Festival of Nations in St. Paul. The Festival of Nations is a celebration held annually to rejoice in the rich diversity of our community.
Can you speak the words "rich diversity" without that intonation that implies quotation marks? I know I can't. I've tried.
It's not a bad event, and my sales (more on those below) were pretty good. But it's grueling. It just involves sitting around, but you sit around in a windowless, echoing concrete cavern, and Friday and Saturday are twelve-hour days – ten to ten. It wears on an old man.
We had an example of rich diversity at a nearby vendor's stall, where a gentleman was selling "Ojibway Beadwork." Another Native American came over and insisted he had no right to make or sell what he was making and selling. Wrong tribe or wrong designs or something. The offender packed up and left, saying he felt unsafe.
You may extract what moral you will from this story.
But I did pretty good business. Saturday in particular was excellent – at one point I had a line of three people waiting to buy Viking Legacy (the book I translated, if you're new around here). This occurred – of course – just as I was sitting down to eat the Chinese meal I'd brought from the food section.
It's not true that I'd rather eat than make money. I produce this anecdote as proof. My sesame chicken was cool by the time I got to it, but I made sales.
I really think we've got great possibilities in Viking Legacy. Again and again I had the experience of explaining the book's theme (the influence of Viking democracy on our own democracy today) and a kind of light would go on in people's eyes and they'd reach for their wallets.
My investment in stock was expensive, but I made it all back and took in a fair profit.
Capitalism is good, as every Viking will tell you.